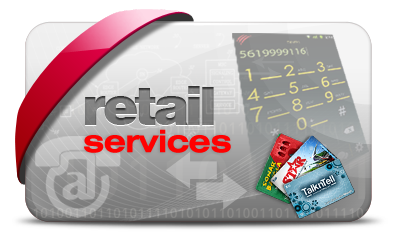 You can make great savings on all your phone calls from the anywhere by using any one of our fantastic retail services. We have a great range that are all designed to help you save money wherever you want to call and however long you want to talk. available 24 hours a day, 365 days a year and cheaper than most others..
Retail Program
Program for business and individuals, completely customizable business management platform for starting telecom business in your country.

Tariffs Each of the resellers has the tariff assigned. This tariff is used to calculate the cost of the call for a particular reseller. There is an option of checking the predefined prefixes and tariffs assigned to them but there is no option of changing them.
Management interface It is a tool for configuring the whole system. It has a number of features that allow to manage clients' billing and analyze traffic information, based on the statistical data.
Web CDR - The module that allows clients to check their current account status and the history of the calls made. There is a possibility of exporting data to the file from this level.
PC to Phone Client - softphone based on the g723.1 codec.
After having the dialer installed or after being logged to the appropriate website user can carry out calls. Connections are transferred to us and from there to the Voip gateways and/or gatekeepers.
There are two options of carrying out the connection:
* Connect source first then call destination.
* Call simultaneously.
First option,we will try to connect with the number entered in the "source" field first and then, if this succeeds, will connect with the "destination" field number.
Second option,Egysip will try to connect the two numbers simultaneously. In the process of establishing connection user can follow the information on the current connection status both for "source" and "destination" numbers.
Callshop - windows based application that is to be installed in internet callshops, it gives real time information on connection status, the telephone number, time of the connection, its cost etc.
Callshop module consists of two parts: server, which is built in Egysip's platform and software that works with Windows operating system, and is to be installed in a callshop. After launching this application and logging into Egysip (password and login are required) it allows controlling, in the real time, the calls made by clients.
Callshop software gives real time information on connection status, the telephone number, time of the connection and its cost. After having finished the call (all several calls) the information on the amount that the client has to pay is displayed.